The Comics/Art Books:
✨New!✨ The Wormhole Club Tragedy 01: Vorticia Vortex ⚫️ (Cosmic Horror)
A young woman dies under mysterious circumstances at the Wormhole Club. Mateo Myer's patient, who was there on the night she died, claims that she was murdered, by a woman who the internet has named "Vorticia Vortex". Who is she? Does she even exist? Why is the internet obsessed with her? Mateo begins his journey down the rabbit hole…
Issue 01, digital edition, available exclusively to Kickstarter backers. Edited by Drena Jo and lettered by Sam Noir. Print edition to follow….
✨New!✨ Dracula: Visions 🦇 (Horror)
Collection of art from various artists, inspired by Bram Stoker's DRACULA.
Gehenna: Death Valley (Horror/Sci-Fi) 🕷💀DELUXE EDITION AVAILABLE NOW!💀🕷
✨2020 Joe Shuster Award Winner of The Gene Day Award✨

During a road trip, a group of friends decide to make a pit stop at an abandoned lot. While exploring the area, they see this on an old fence;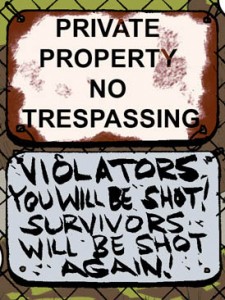 Of course, they don't take the signs seriously, so they crawl under the fence. Unfortunately for them, what is going on behind the fence is far bigger and sinister than their own personal problems… FFO monster movies, sci-fi and body horror.
Gehenna: Death Valley is available at the following locations;
Studiocomix Press (385 Frederick St, Kitchener, ON)
The Comic Book Shoppe 2 (228 Bank St, Ottawa, ON)
The Dragon (55 Wyndham St. N.–located in the Old Quebec Street Shoppes–Guelph, ON)
Cadaverific! (Horror/Comedy/What?)
Cadaverific! is a story about the accidental resurrection of Corey Bowman, who is the central character of the series. Before the untimely death, Corey's cousin, J.P. Bowman, inherited a mysterious talisman from the crazy guy at the Army Surplus Store – the infamous Monkey Paw. In the presence of the Paw, J.P. wishes;
"…that Corey wasn't dead…that he wasn't buried in that cemetery…that he'd be there with us, in once piece…and without that broken neck."
The next morning, Corey's body is missing.
🌙COMING UP!🌙
The Beholden 👺 (Supernatural/Horror)
Co-writing with Bob Salley, edited by Drena, letters by Cardinal Rae. Also drawing the book!
The Wormhole Club Tragedy ⚫️ (Cosmic Horror)
Currently writing and drawing issue 2. Edited by Drena Jo.
The Wanderer 💀 (Horror/Fantasy/Sci-Fi)
Short story for CAULDRON.
*******************************************************
The Creator:
Becka is an award winning freelance artist and comic creator based in Southwestern Ontario, Canada. She creates and posts her horror/darkly inclined comics and art onto her website and social media as The Becka (@the_becka, or @the.becka). The comics are eventually self-published and sold at conventions and other art events.
Feel free to browse through the Gallery too, if you like! 🙂
For commissions, please send Becka a message via the Contact page, or a DM through her social channels. Thanks for stopping by!
(She's occasionally known as Becka Kinzie)